News
Wild Faces of Switzerland: Mi-Yong Brehm ist the next guest of the Natourale Naturfilmnacht in October!
Mi-Yong Brehm is author and producer of nature film documentaries. For her, the series "Wild Faces of Switzerland" is one of the highlights of her cinematic oeuvr. However, this production also poses very special challenges for her, because nature does not always play exactly according to plan.
Oliver Goetzl – first star on the NATOURALE Naturfilmnacht!
The NATURFILMNÄCHTE Wiesbaden and NATOURALE have been partners since the beginning of the year! As part of the NATURFILMNÄCHTE we will be showing the films of the winners and extraordinary productions of the last NATOURALE. The first guest is one of the best nature film directors in Germany: Welcome, dear Oliver!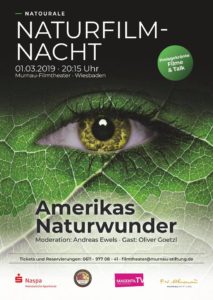 NATOURALE 2020
The next NATOURALE will take place from 27 to 29 November 2020 in Wiesbaden in the Murnau Filmtheater.

.
THE AWARD WINNERS OF NATOURALE 2018
BEST ENVIRONMENTAL & NATURE FILM FEATURE 
GRASSLAND / GRASSLAND
Chadden Hunter
BEST TRAVEL & TOURISM FILM FEATURE
MAGICAL OMAN / MÄRCHENHAFTER OMAN
Rosie Koch, Roland Gockel
BEST ENVIRONMENTAL & NATURE FILM SHORT
LEAFCUTTERS / BLATTSCHNEIDER
Catherine Chalmers
BEST TRAVEL & TOURISM FILM SHORT
RETIRED NOMADS / PENSIONIERTE NOMADEN
Philip Spaar
BEST COMMERICIAL
LAND OF PAKISTAN / PAKISTAN
Ali Sohail Jaura
SUSTAINABILITY AWARD
UTOPIA REVISITED / ZEIT FÜR UTOPIEN
Kurt Langbein
BEST DIRECTOR
WHITE WOLVES – GHOSTS OF THE ARCTIC / DIE WEIßEN WÖLFE VON ELLESMERE ISLAND
Oliver Goetzl
BEST CAMERA
CHILDREN OF THE SUN / BIENE MAJAS WILDE SCHWESTERN
Jan Haft
BEST SCREENPLAY
ALL THE WILD HORSES / DIE WILDEN PFERDE
Ivo Marloh
BEST MUSIC
MEGETI – AFRICA´S LOST WOLF / MEGETI
Oliver Heuss
SCIENTIFIC AND ENGINEERING AWARD
PATAGÓNIA – THE TIP OF THE WORLD / PATAGONIEN
Paulo Ferreira
BEST PASSION PROJECT
NATURE IN HIDING / VERSTECKTE NATUR
Attila Vegh
BEST CINEMATIC IDEA
AN ALPINE SENSE OF LIFE / ALPINES LEBENSGEFÜHL
Johannes Grebert
BEST STORY
ON THE FRONT LINE: RANGERS OF GORONGOSA NATIONAL PARK
AN VORDERSTER FRONT: WILDHÜTER DES GRORONGOSA NATIONALPARKS
Carla Rebai
BEST EDETING
KAZAKHSTAN – KYRGYZSTAN / KASACHSTAN – KIRGISISTAN
Guillaume Juin
English Films at NATOURALE!
The unique festival in the heart of Europe invites you to discover the world in fascinating pictures. Film productions from the fields of environment, nature, tourism and travel await you daily at NATOURALE. The film festival is an event for the whole family. Book your tickets  at the phone number: 0611 – 97708-41 or per  E-Mail: filmtheater@murnau-stiftung.de.
English Films at NATOURALE:
30. November
14.00 The Patterns of the Ocean – Protecting Indonesia's Manta Rays , Editing: Hendrik Schmitt, 45 Min.
16.00 Gray Area: Wolves of the Southwest, Editing: Dean Cannon, 50 Min.
22.00 On the front line – The Rangers of Gorongosa National Park, Editing: Carla Rebai, 82 Min.
01. December
10.00 Catching Giants, Editing: Ashley Scot Davison, 50 Min.
11.00  Sons of Halawa, Editing: Matt Yamashita, 56 Min.
22.00 The Blood Hound, Editing: Jianhua Liu, 95 Min.
02. December
13.00 All the Wilde Horses , Editing: Ivo Marloh, 100 Min.
19.00 White Wolves – Ghost of the Arctic, Editing: Oliver Goetzl,  56 Min.
Tickets & Reservation: Phone: +49 611 – 97708-41 Email: filmtheater@ murnau-stiftung.de
Prices Movies under 60 minutes: 5 Euros
Movies over 60 minutes: 10 Euros
Seminars: 15 Euros
Festival pass** (3 days): 50 Euro (valid for all fi lm screenings)
Day pass** (1 day): 20 Euros
Trade Fair
Opening Hours:
■ Friday from 14:00 to 20:00
■ Saturday from 14:00 to 20:00
■ Sunday from 10:00 to 18:00
Breaking News: Here is the official NATOURALE program! Check it out!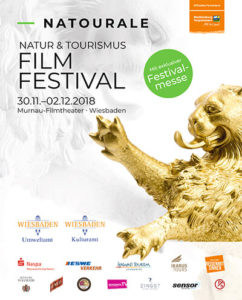 23 film productions from all over the world can be admired. There is also an exciting travel and nature fair with interesting exhibitors.
Great this year: our partner state Mecklenburg-Vorpommern.
In the most different workshops you can find everything for the perfect hotel booking, or even record your own film with the mobile phone in professional quality. Reservation at: Telephone: 0611 – 97708-41 E-Mail: filmtheater@murnau-
stiftung.de
Aloha, Hawai'i Tourism Europe!
The Wiesbaden NATOURALE can once again look forward to a new sponsor and exhibitor. As a Tourist Office, the team of Hawai'i Tourism Europe is at your disposal for information on the dream destination of Hawaii. Each of the six main islands has its own character. How diverse the islands are can be found on the
NATOURALE fair in November. We look forward to you!
Naspa is new sponsor of NATOURALE
We are very pleased to welcome the Nassauische Sparkasse in Wiesbaden in our team. We are looking forward to a successful cooperation.
Mecklenburg-Western Pomerania
The partner country of NATOURALE 2018 is Mecklenburg-Vorpommern. Meet representative from this wonderful region and enjoy documentaries about the beautiful nature of this exciting part of Germany.
Welcome!
We look forward to cooperate with Andreas Kowol. The head of the environment and traffic department is the patron of NATOURALE.